And by Snow Day I mean Tuesday. Yup, it's true, although the snows are falling steadily outside, I am still at work. Yesterday we were allowed to leave early because of the snow - I left 45 minutes early, but only got home 10 minutes earlier than normal - that means my 15 minute drive took about 50 minutes. The rivers are filled with ice too - it must be winter in Pittsburgh!
So, as much as it stinks to be a part of a class action lawsuit it is quite nice to randomly get a check in the mail, which is what happened yesterday. That surprise greatly improved my sour mood following my lengthy trek home. As a gift to myself, and as something to possibly wear to Angelina's wedding, I bought myself a new top from
Anthropologie
.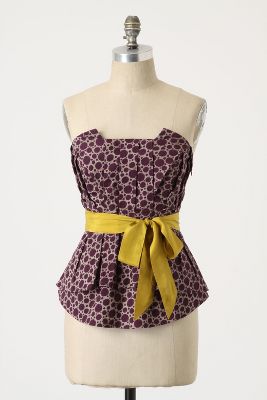 Isn't it cute?!? It also come with removable spaghetti straps if you're so inclined to wear it that way. I figured I could wear it with a cute skirt and cardigan to work too. AND it was on sale - even better! If I had the money, I would fill my wardrobe with clothes from Anthropologie!
If you could only shop at one store for the rest of your life (if money was no object), which store would you choose?